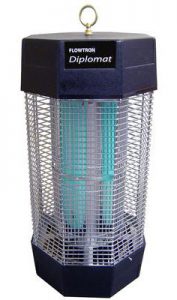 There's nothing better than enjoying a cool beverage on the patio and admiring your own slice of nature in the backyard. If there's one thing that sullies the experience, it's bugs. The closer to the wild you get, the bigger, nastier and more plentiful they become.
The Flowtron FC-8800 isn't for everyone. With up to 2 acres of coverage this puppy is not for city folk. It's the big kahuna of bug zappers sitting at the top of Flowtron's line of fly control products.
It isn't flies homeowners are most interested in zapping however, it's annoying mosquitoes. So I'm glad to report the FC-8800 handles mosquitoes just as well. In fact this may be the ultimate bug zapper.
Understandably this unit is formidable in size measuring 27" in height and 12" in width and depth.
Due to the effectiveness the bottom bug catcher quickly becomes full. It's not easy to remove and requires either a very strong grip or a pry tool. You'll quickly tire of emptying it so most find simply removing the tray to be the best solution if you're using it outdoors.
Flowtron recommends you place it 50-75ft away from the patio. This is a nice advantage of having such a powerful device. You don't have to place to so close to your guests to solve the bug problem.
Ironically I've found people are amused by it and eventually gravitate towards it, especially when drinking is involved. It's a sort of retribution for all those unsightly mosquito bites we've acquired over the years.
The Verdict
If you own a large plot of land or live near a lake and love chilling outside, you owe it to yourself and your guests to pick one of these up.
Probably the biggest benefit is you'll never have to hear complaints about mosquito bites from the spouse or kids ever again. And just think how much you'll save on bug spray (wink).