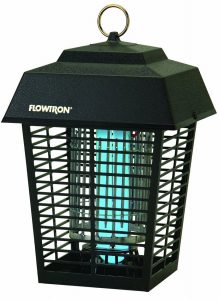 Flowtron is known for their large, powerful bug zappers that cover a larger area than the competition.
The BK-15D is their most affordable, humble offering for people that need to protect a half an acre from pests, not engage a mosquito armageddon to benefit neighbors. By comparison the BK-40D and BK-80D are a little larger and cover 1 acre and 1 ½ acre respectively.
It's made with the same high build quality as its larger siblings. Top of the steel exterior acts like the pitched roof of a home: rain water safely drips down the edges far from the electrical grid and UV lamp inside.
The 15-watt black light bulb attracts mosquitos, flies, gnats and other flying pests. Octenol attractant can be used to pull in mosquitos more effectively. Adding lure turns a device that only needs electricity to operate into a zapper that may cost an estimated $2.50 to $5 per month depending on the climate. Hot weather means the attractant doesn't last as long. But keep in mind, the BK-15D may serve you fine without lure.
Along with the bulb, the heart of a zapper is of course the electrical grid and these are designed not to clog. Bugs go where they should: the pan at the bottom. You'll be cleaning this puppy often. The thoughtfulness of details in its design puts Flowtron in a league higher than most insect killer stuff you'll see on Amazon.com.