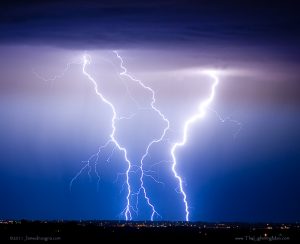 "Powerful" is a word used loosely by many electric insect killer manufacturers, so I recognized the need to compile a list of truly robust models that fry mosquitoes to high heaven. To make the grade all zappers needed have a big, bad electric grid at its core, coverage of at least one-acre outdoors, and preferably utilize multiple 40-watts UV lamps.
Order reflects the level of brawn: best stuff at the top. So let's take a look at the fairly small pool of high-wattage heavy-weights available today.
1. Flowtron FC-8800 Diplomat
Covering a whopping 2 acres outdoors or 2,000 sq. ft. indoors, the FC-8800 Diplomat is Flowtron's flagship. And that's saying something as Flowtron makes more high-coverage, powerful models than anyone else. It's also a beast in terms of size, measuring 12 x 12 x 27 inches; that's over 10 inches taller than their other powerhouse, the BK-80D. 120 watts of UV muscle is provided by three 40-watts bulbs.
Although the Diplomat will kill any flying pests including mosquitoes, its specially designed to lure flies with its reflector panels and replenishable pheromone lure.
2. Flowtron BK-80D
If it's mainly mosquitoes you want to crack down on, the BK-80D provides top-end specs at a really fair price. It covers 1 ½ acres compared to the 2 acres of the FC-8800 above yet sells for one-quarter as much. The top of the case resembles a pitched roof which is a nice touch as this is a classic hanging design that must be mounted on a security pole in an uncovered area.
Two U-shaped 40-watt black lights attract flying pests and included Octenol mosquito attractant adds to the effectiveness.
3. Stinger 3-in-1 Kill System Insect Zapper
This space-aged offering from Stinger has the same coverage specs as the BK-80D at 1 ½ acre. However, it's a little weaker in the UV lamp category with one 50-watt bulb rather than two 40-watters. To make up for that the killer feature here is the smart sundown sensor which turns the unit off at dawn and on at dusk.
The "3-in-1 kill system" marketing jabber is a little overblown as a UV light, octenol lure capability, and clog-free grid are pretty much standard features.
4. Black Flag BZ-40 40-Watt Outdoor Bug Zapper
While not as amazing as the zappers that came before it on this list, the BZ-40 looks decent on paper. It features 5,500 volts of power compared to 5,500 watts in the Stinger 3-in-1. UV lamp power is the weakest of any we've look at, with just one 40-watt bulb.
BZ-40 has a regular and deluxe edition with one key difference: the deluxe model has a sensor that turns the unit on at nightfall and off when the sun comes up; the same feature that is built into the Stinger 3-in-1 standard.
It's last here due to bug control performance that lags behind Flowtron and Stinger products. Complaints about reliability are also stacking up, so while Black Flag's offering will work in a pinch it shouldn't be your first choice.
—
Photo: Bo Insogna