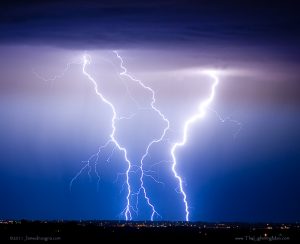 "Powerful" is a word used loosely by many electric insect killer manufacturers, so I recognized the need to compile a list of truly robust models that fry mosquitoes to high heaven. To make the grade all zappers needed have a big, bad electric grid at its core, coverage of at least one-acre outdoors, and preferably utilize multiple 40-watts UV lamps.
Order reflects the level of brawn: best stuff at the top. So let's take a look at the fairly small pool of high-wattage heavy-weights available today.
1. Flowtron FC-8800 Diplomat
Covering a whopping 2 acres outdoors or 2,000 sq. ft. indoors, the FC-8800 Diplomat is Flowtron's flagship. And that's saying something as Flowtron makes more high-coverage, powerful models than anyone else. It's also a beast in terms of size, measuring 12 x 12 x 27 inches; that's over 10 inches taller than their other powerhouse, the BK-80D. 120 watts of UV muscle is provided by three 40-watts bulbs.
Although the Diplomat will kill any flying pests including mosquitoes, its specially designed to lure flies with its reflector panels and replenishable pheromone lure.