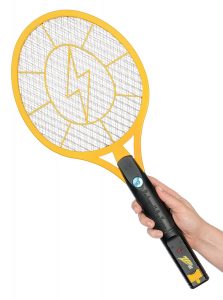 There's something diabolically satisfying about silencing an annoying fly with a fly swatter. The Zap It! takes that idea, makes it possible outdoors, then brings it to the next level. Plus, it adds high-tech features such as USB charging, bright LED light and safety mesh to boot!
While practical in function the Zap It! can practically be considered a toy for adults. Who could possibly resist an electrified tennis racket with a cool lightning bolt symbol at the center of the mesh? The sheer novelty of it will inspire curiosity in your friends who will want to give it a swing for themselves.
The unit is powered by a battery which provides 2,000-volts to the grid. This will instantly kill flies, mosquitoes and other flying insects. It can be charged via a micro USB port located at the bottom of the handle (under a small yellow cover). This is a welcome feature in an era where phone chargers and so ubiquitous and USB ports are found in practically any laptop.